«Only the spirit of the books and the people remains; they meet each other in the heavens».
---
English translation revised and corrected by Giulia Martina Weston.
---
NOTE
I suggest the following texts for investigation: N. SALA, G. CAPPELLATO, Architetture della complessità: la geometria frattale tra arte, architettura e territorio, Milano, F. Angeli, 2004.

A. MAROTTA, Daniel Libeskind, Roma, Edilstampa, 2007, p. 25.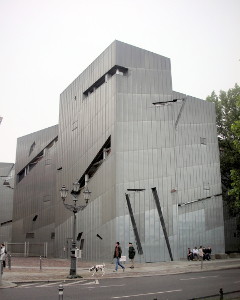 Fig. 1
DANIEL LIBESKIND, Jewish Museum, Berlin, Germany, 1989-1999
Particular of one of the numerous fronts on which there are "cuts", long and narrow windows opened on the zinc surface asymmetrically by re-proposing a shattered design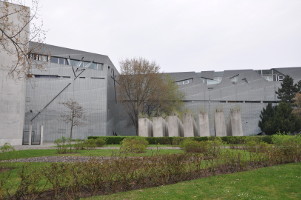 Fig. 2
DANIEL LIBESKIND, Jewish Museum, Berlin, Germany, 1989-1999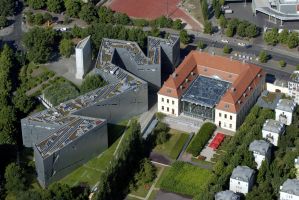 Fig. 3
DANIEL LIBESKIND, Jewish Museum, Berlin, Germany, 1989-1999
An air photo that shows the zig-zag profile of the de-structured Star of David. Near the architectonic "blitz" there are the Tower of the Holocaust and the Garden of Exile. On the other side there is the Kollegienhaus with the glass court realized by Daniel Libeskind in 2007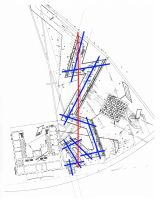 Fig. 4
DANIEL LIBESKIND, Jewish Museum, Berlin, Germany, 1989-1999
Plan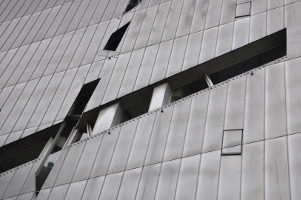 Fig. 5
DANIEL LIBESKIND, Jewish Museum, Berlin, Germany, 1989-1999
Particular of the windows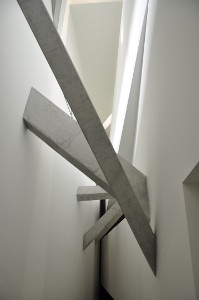 Fig. 6
DANIEL LIBESKIND, Jewish Museum, Berlin, Germany, 1989-1999
Inside beams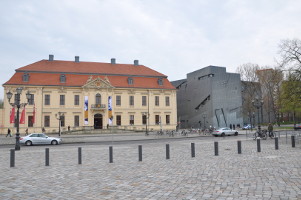 Fig. 7
DANIEL LIBESKIND, Jewish Museum, Berlin, Germany, 1989-1999
Stylistic comparison between the Jewish Museum and the Kollegienhaus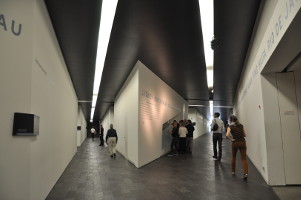 Fig. 8
DANIEL LIBESKIND, Jewish Museum, Berlin, Germany, 1989-1999
Particular of the underground Axes' intersection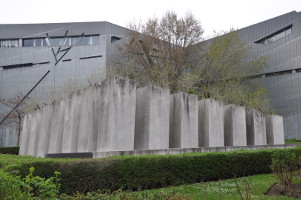 Fig. 9
DANIEL LIBESKIND, Jewish Museum, Berlin, Germany, 1989-1999
Garden of Exile or E.T.A. Hoffman Garden. It is possible to see the slope of the floor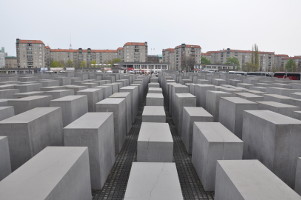 Fig. 10
PETER EISENMAN, Memorial to the Murdered Jews of Europe, Berlin, Germany, 1998-2005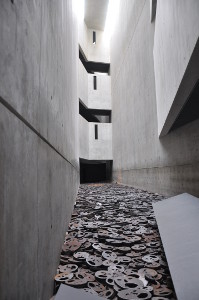 Fig. 11
MENASHE KADISHMAN, Shalechet (Fallen leaves), Memory Void.
The skylights visible through the air photo illuminate the void and represent one of the two directional lines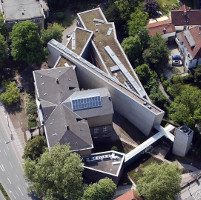 Fig. 12
DANIEL LIBESKIND, Felix Nussbaum Museum, Osnabrück, Germany, 1994-1998.
An air photo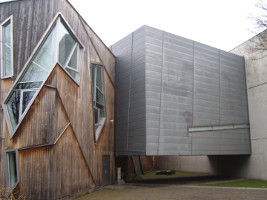 Fig. 13
DANIEL LIBESKIND, Felix Nussbaum Museum, Osnabrück, Germany, 1994-1998.
Particular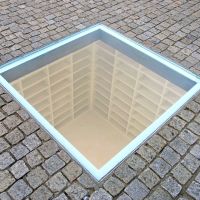 Fig. 14
MICHA ULLMAN, Bibliothek, Berlin, Germany, 1995
Photo Courtesy of Lucia Signore